Introducing the SonicLink DAC Cable by Kontinum – With MIC. Perfect for Gamers!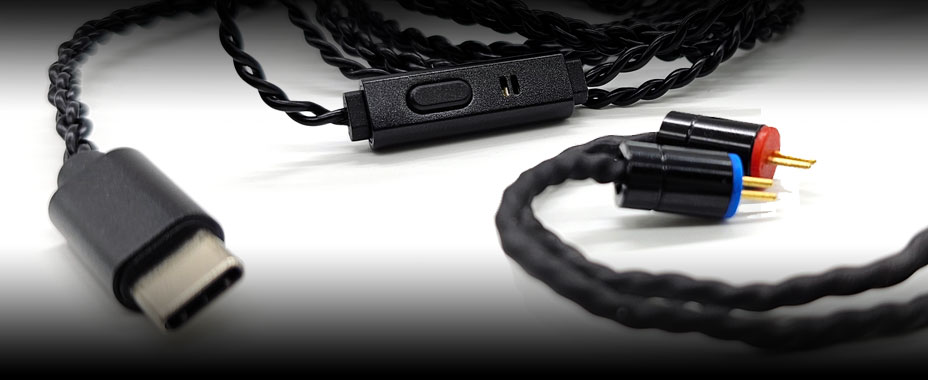 The SonicLink DAC Cable redefines your audio experience with its innovative blend of versatility and precision. This 2-pin earphone cable boasts an embedded USB Type-C digital audio DAC (Digital Analog Converter) that supports up to an astounding 384KHz/32-bit sampling rate, unlocking a world of richer, more immersive soundscapes, whether you're savoring music or diving into the heart of your favorite game.
Key Features:
Quality Sound:

With support for up to an impressive 384KHz/32-bit sampling rate, the SonicLink DAC Cable delivers with intricate details and clarity.

Universal Compatibility:

Seamlessly connect the SonicLink to PCs, notebooks, and Android-supported mobile phones. Additionally, it harmonizes with iPhone, iPad Pro, and iPad Air 4th generation or higher, ensuring a versatile and immersive audio experience across all your devices. This cable is naturally compatible with all Kontinum in-ear monitors.

Enhanced Microphone:

Equipped with a high-performance microphone, the SonicLink ensures crystal-clear voice communication for calls and gaming sessions.

On-The-Go Control:

The SonicLink Cable with Mic puts music and call control right at your fingertips, making it effortless to manage your audio experience while on the move. This 48-inch cable comes in a soft-touch black finish, ensuring both style and functionality in one.

Cable Replacement Made Easy:

When replacing the cable, note that each connector is marked with a red or blue. Attach each side with the colors matched as Red=Right, Blue=Left.
Technical Specifications:
DAC
Up-link Interface: USB Type-C

Impedance: 32Ω

Decoding: Supports up to DAC 384KHz/32-bit; ADC 48KHz/16-bit

SNR @1KHz 0dBFS: 120dB

THD+N @1KHz 0dBFS: -95dB

Crosstalk @1KHz 0dBFS: -100dB
Microphone
Max Input Level: 100mV

Gain @1KHz 100mV: 14dB (FS/Vrms)

Frequency Range: 20Hz ~ 20KHz

THD+N @1KHz 100mV: -85dB to -75dB

SNR @1KHz 100mV: 75dB ~ 85dB

MIC Bias: 2.7V